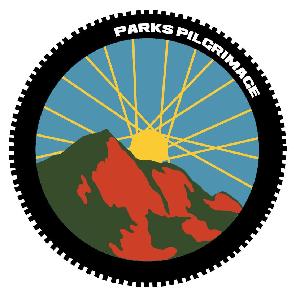 We had an idea… a simple, beautiful idea.
Why not go to every National Park in the United States… on bikes.
And, because life should be simple and beautiful, we decided that sounded like a grand thing to do.
So we made plans.
Maps were consulted, bikes were built, gear was gathered, and dreams became reality.
Our trip is to find the joy and wonder in life that comes from uncoupling ourselves from the frenetic pace of 21st century life and turning to a simpler, slower existence. It is to immerse ourselves in the beauty of our natural world. We have shed our jobs, our comforts, and our homes to wander. Yet, while we may meander, we are not without purpose. In the most ancient sense of the word, we have become pilgrims—we do not seek escape, we seek to be transformed.
We invite you to come along on this journey with us… join us on our Parks Pilgrimage.
Please help me support the National Park Foundation by donating to my page in support of my journey. I am raising funds for the conservation of land and the animals that call national parks home. Your support will help NPF programs that protect the over 400 national parks across the country through the conservation of landscapes and wildlife populations, by implementing innovative changes that will make parks more resilient and sustainable. The process is fast, easy and secure.
Your support will benefit NPF's work to protect national parks and to create life-long connections to natural, cultural, and historical gems. As the official nonprofit partner of the National Park Service, NPF is responsible for protecting the parks for future generations.
Our national parks are a treasured resource shared by all, please support my efforts by making a donation today. You can also help by sharing my page with any friends you think might be interested in donation.
Thank you for your support!
View More